With the variety of different feed and supplement choices available, it can be overwhelming to make decisions regarding your horse's diet. It is important to remember that horses are grazing animals, designed to spend much of their day eating forage. Forage (grass and/or hay) should comprise most of your horse's diet, at a rate of about 2% of his body weight per day. Of course, the nutrient profile of different forage sources can vary as well, so a hay analysis can provide more detailed information about nutrient content.
When selecting a feed, be sure to look for the feed tag or guaranteed analysis. This tag describes the composition of the feed, including protein, fat, fiber, and mineral content. You will also find guidelines for recommended amounts to feed your horse, depending on his weight, workload, and stage of life.
What kind of concentrate does my horse need?
If your horse is not in heavy work and maintains an appropriate body condition score easily, he does not need high levels of concentrate added to a forage diet. A product called a ration balancer is perfect for these horses. Ration balancers are designed for the easy keeper to be relatively low in calories but contain the vitamins and minerals that may be lacking in a forage-only diet. For these horses, daily forage intake at 2% of body weight per day, a ration balancer fed by weight as directed, and access to a mineral block may be all that is needed.
For horses in heavy training, those with a higher metabolism, or those with compromised teeth, more calorie-dense concentrates may be beneficial. For example, a Thoroughbred racehorse will need extra calories from a concentrate to take in enough calories each day for race training, while an aged horse unable to chew adequately will need a forage substitute.
Examples of horses with varying dietary needs
Red, a 16-year-old quarter horse gelding.
Job: light trail riding 1-2 days per week, easy keeper. Because Red has a less demanding job and maintains his weight well on hay alone, he doesn't need extra calories from high-energy feeds. A ration balancer is a perfect option to ensure Red has the appropriate vitamin and mineral balance in his diet, without supplying extra calories.
GiGi, an 11-year-old TB mare
Job: upper-level eventer.  GiGi is a high-level athlete, and as a Thoroughbred, she has a higher metabolism. She is in intense training 4-6 days per week, eats free choice hay, and needs the extra calories from a performance feed to maintain her condition. Many performance feeds offer high-fat content in addition to protein and fiber, as a more calorie-dense option.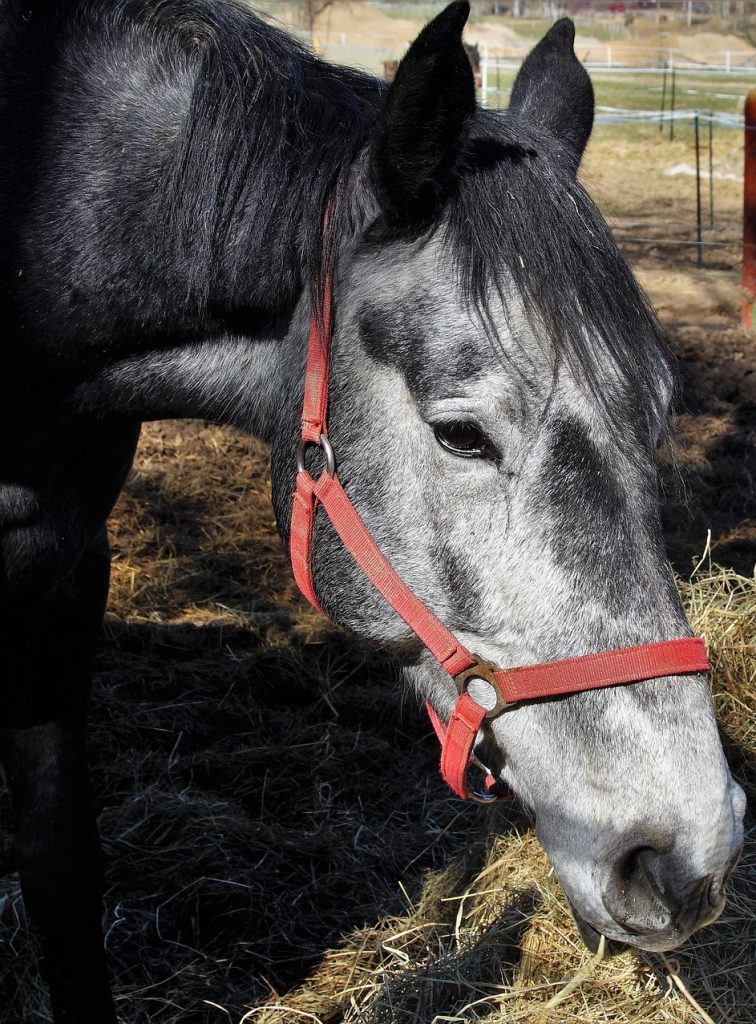 Jack, a 25-year-old appendix gelding
Job: retired, hard keeper with many missing teeth. Lack of teeth means that Jack has a hard time chewing hay efficiently, which also puts him at an increased risk of choking. The best feed for Jack is a complete senior feed. The "complete" description means that this feed is formulated to meet all of his nutritional and caloric needs in the absence of hay. Of course, this means that a much higher amount of feed must be fed daily. Regular (non-complete) feeds are generally not safe or nutritionally balanced to feed in such high amounts. If you're feeding a horse like Jack, remember to check the label of the senior feed to be sure it says 'complete'.
Remember, ALWAYS weigh your feed- the label instructions on the bag will have recommendations based on weight (The weight is NOT 1 coffee can…) It is much easier to adjust your horse's diet when we know exactly how much he is consuming. The easiest way to do this is to put your feed scoop on a food scale, tare it, add feed to desired weight, then draw a line on your scoop so you can feed consistently at every time. Another important note is that feeds are not all the same weight, so if you switch feeds, 2lbs of feed A is probably not the same amount in your scoop as 2 lbs of feed B. As always, if you have questions or would like help selecting a concentrate, consult with your veterinarian.