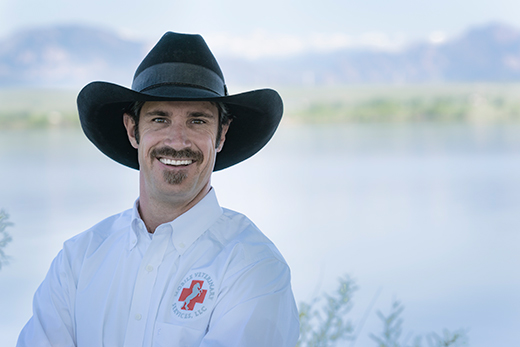 I was born and raised in Boise, Idaho. Throughout my youth, I spent as much time in the wilderness as possible, hunting, fishing and doing anything that put me outdoors. Early in my life, horses were another form of transportation and a way to have fun. It was around age 12 that I began to truly love the company of a horse and search for a way to make them a permanent part of my life. With my general love for animals and a desire to constantly learn, I decided I would become a veterinarian.
With no desire to leave the West, I came to Colorado State University for my undergraduate degree and stayed to get my DVM.  The opportunity with Mobile Veterinary Clinic fell at my feet after attaining my DVM in 2002. I worked for Dr. John Young for 5 years until he decided it was time to retire. The next stage of my career became obvious and Mobile Veterinary Services, LLC was born.
My love of learning pushes me to continually seek knowledge to better understand and treat my equine patients. Lameness and equine dentistry are particular passions of mine. As I continue to grow as a veterinarian, I find these sectors of equine medicine both challenging and gratifying.
Family has always been an important part of my life, and five years ago that life became richer than it has ever been! I met my wife, Jeanine Eller and her 3 boys, Jarrod, Jayson and Jack. In 2012, we added a fourth son, Cayden. These four boys keep Jeanine and me running constantly. Between 4 children, MVS, and Jeanine's 3 hair salons, we live a full life and that is why Jeanine is often seen "teching" in the truck or I can be seen sweeping floors at a salon.
Between the obligations of my practice and my family, I still try to set aside time to do two of my favorite things – ride my Quarter Horse gelding, Rome, and enjoy the back country. Luckily, I am able to spend several weeks a year combining those activities as I recharge my batteries in the outdoors and enjoy the company of a horse.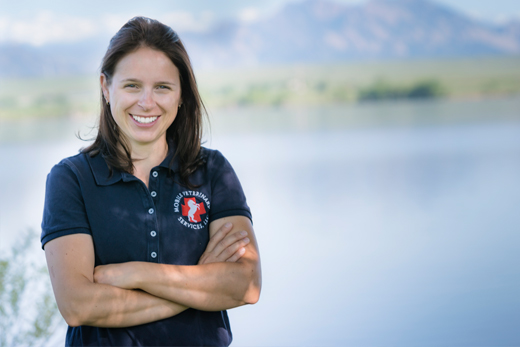 Dr. Hartman … Allison … Doc … or even Ms. Lady Vet – I've been called it all and will usually respond to just about anything. Horses have been in my blood since I was four, when I skillfully negotiated for riding lessons in exchange for exemplary behavior at the ophthalmologist's office. Little did my mother know that that agreement would ignite a passion for horses within me that has heavily shaped both my hobby and my career.
Whether through 4H and Pony Club as a youngster, an exercise rider at the local racetrack, or flying over the cross country course as an avid eventer, I am always most at home on the back of a horse. At the moment, my herd consists of my retired event mare (who is currently a steadfast trail companion) and my next event prospect, a 7yo OTTB gelding. If ever I have a free moment, you will find me at the barn or riding in the mountains.
Born and raised in Rochester, NY, I attended college at Rensselaer Polytechnic Institute, with the intention of graduating as an aeronautical engineer and seeking employment in the aerospace industry. Boy, was I mistaken! After a brief foray as an engineering student, I realized a career without horses was no life at all and shifted my focus to vet school. Several years later, I graduated from the University Of Minnesota College Of Veterinary Medicine, having also attained my certification in animal chiropractic work from the International Veterinary Chiropractic Association.
For the last few years, Colorado has been beckoning to me and I finally heeded the call and made the move. After spending six years working in rural Minnesota, I am ready to team up with MVS to offer the highest caliber of veterinary care to our patients.
As a continuous learner, I am constantly seeking new ways to better serve my patients and clients, a drive which will take me to acupuncture school in 2017. In addition to equine chiropractic care, my interests also lie in dentistry, ophthalmology, reproduction, and lameness. I look forward to serving both you and your horse in the future!
I grew up horseback and have been a horse owner my whole life. Working for MVS allows me to work with horses and keeps me connected with the horse community. For the last 25 years, I have been involved in the local community rodeo, serving both on the board and as president. Although now retired, I enjoyed being a volunteer firefighter for 15 years. Now, in my free time, I work with my pup, Charlie, or ride as a mounted ranger for Jeffco Parks with my husband, Dale.
I grew up on farms and ranches all over Kansas. Horses were a part of my childhood, but I had lost touch with that passion until I met my husband in 2011. Being married to the equine vet (Dr. Baird) means I spend a lot of evenings and weekends in the truck or the office. Our son, Cayden, often accompanies us on emergency calls and it has been a positive influence as we raise him to be a strong young man. As a small business owner myself, I understand the special relationships we have with our clients and I enjoy working and growing our business together, as a family. I love the change of pace working at MVS gives me and I love that I learn something new every single day.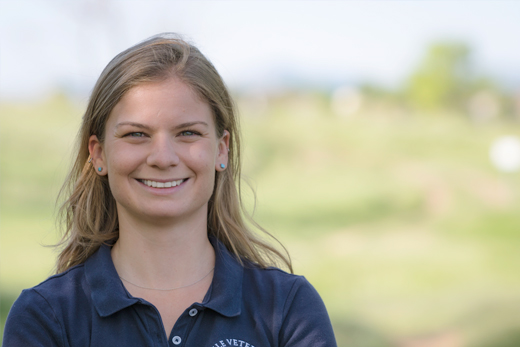 At six years old I was introduced to horses and the rest is history. I spent all my free time at Rock Creek Park Horse Center, the local stable in my hometown of Washington, DC. It was there that I learned about horse care, training horses and riders, and leading guided public trails. I joined the Western Riding Team in college and spent summers guiding trail rides in the Rocky Mountains, while completing a degree in Equine Science and Management from the University of Kentucky. I've taken a few breaks from the industry since then, ran several marathons, teamed in Ride and Tie races, and picked up other hobbies. But, at the end of the day, it always comes back to my first true love. I could not be more excited to be here at Mobile Vet continuing to learn and work alongside the rest of the team.
Mobile Vet Services is my partner in keeping my old horses happy, my foals healthy, and my polo ponies playing soundly. Dr. Baird has been my vet for over 10 years through countless routine and emergency calls. He is experienced, knowledgeable, and compassionate. I appreciate his sense of when something is a problem and his reassurance when it is not. He has an amazing ability to explain potential treatment options and will refer when needed. In the past year, I've also gotten to know and depend on Dr. Hartman. What an asset she is to MVS! I recommend MVS to my boarders and friends for all their vet needs. I will continue using MVS for as long as they will have me and my herd of horses!

Whether using MVS as an owner or a professional trainer, I trust MVS can provide the services I need. I am currently a professional horse trainer in the Golden area specializing in Western Dressage performance horses. Through this journey of training, I have developed a trusting and educational relationship with both Dr. Hartman and Dr. Baird. They have been by my side through everything horses can possibly throw at me. They have taken the time to educate me and ensure I have a full understanding of the diagnosis and treatment plans for my personal horses and my client's horses.

horse trainer and owner

I have worked with both Dr. Hartman and Dr. Baird from MVS and couldn't recommend anyone better suited to take care of horses, from emergencies to routine maintenance. I operate a boarding facility of 30 horses and they are the veterinarians I recommend to everyone that comes into my barn. I respect that they are always very detailed and informative as well as providing the utmost quality of care for the animal. If you're looking for a caring, friendly, knowledgeable equine veterinary service, you have found the best with Mobile Veterinary Services.

Conifer Stables

As a barn manager and owner, I have been using Mobile Veterinary Services for both my personal and lesson horses for the past two years. I am continuously impressed by the high level of care and significant consideration they provide to each individual horse. Drs. Hartman and Baird are excellent at providing multiple treatment options to best meet the needs of horse and client, as well as utilizing their broad network of veterinary specialists. From routine lameness exams to midnight colic calls, their passion, professionalism and expansive knowledge base makes them my go to veterinarian for both personal and boarder horses alike.

Manager and Owner at A Rising Star

I've been a loyal customer of MVS for the past seven years and I am very satisfied with the superior service, highest level of expertise, and compassionate care they've afforded my horse. As a competitive Level 3 Western Dressage rider, my horse and I train six days a week and compete throughout the summer and fall. Given this investment of time and money, I will only settle for the best when it comes to healthcare of my horse. Certainly, I use MVS for the usual vaccinations, dentals, health certificates, and Coggins tests. In addition, while I have been blessed with a healthy horse, there was a time when he coliced. MVS arrived quickly to address the situation. In addition to the day-to-day health care requirements, MVS has assisted me in my desire to take a proactive approach at keeping my horse sound and performing at his peak level. This has included biomechanical evaluations including radiographs, saddle fitting, foot/shoeing assessments, and chiropractic adjustments. MVS has also provided my farrier with radiographic information to optimize the trimming of my horse's hooves. As a testament to this level of care, my horse finished the show season by earning two first-place finishes at the 2018 WDAA World Show. I've also recently used MVS for a recent pre-purchase exam of a horse I am importing from Europe. They were very thorough in their assessment, corresponded with the overseas veterinarian, and consulted their colleagues to get additional input regarding identified anomalies. The resulting report gave me insightful information, with which to make my purchase decision. Finally, the folks at MVS are professional and show respect by arriving on time for appointments (or call if they are running late). Further, they provide in-depth explanations, which, as someone who craves knowledge, I greatly appreciate. And, most importantly, they truly have your horse's best interest at heart. Sincerely, Mark Gilbert and 'Butters'